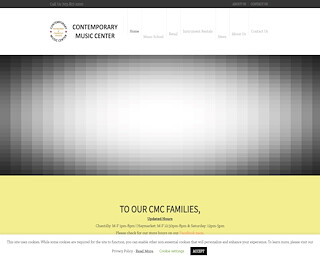 Are you a self-taught guitarist? Contemporary Music Centers offer
VA guitar lessons
that are sure to make a better player of you. You might believe that in order to play rock guitar in a band, you don't really need VA guitar lessons. The truth is, you do, if you wish to be a superior and professional player. Lots of players learn on their own, by listening to recorded music and figuring out the notes. This is not the best way to learn. Proper VA guitar lessons will teach you good musical habits, along with music theory, notation, tablature and other abilities that will make it easier and more pleasant for you to work with fellow musicians in a band, combo or musical ensemble. Even if you have zero intention of performing in a group, VA guitar lessons will still make you a more competent musician.
When people teach themselves to play any insturment, they generally also learn bad habits. There are right ways and wrong ways to hold and tune a guitar. If you do not hold your axe properly, you may damage your wrists and finger joints. We don't tell you this to scare you. We just want you to understand that VA guitar lessons are something that may be of enormous benefit to your musical life. At Contemporary Music Centers, we have several excellent professional teachers on staff at our Haymarket and Chantilly lcoations. If you're going to invest time and money in VA guitar lessons, you might as well take lessons with the best. Most of our music instructors are also professional musicians in one capacity or another. Some of our music teachers are award-winning musicians in their own right. Some play in rock bands, jazz bands and other professional music combos.
We also provide a lot more than just excellent VA guitar lessons. If you want to learn to play an axe that you do not yet own, we would be happy to rent one to you. The option to rent rather than purchasing flat out is favored by many of our VA guitar lessons students. If it turns out that you love attending music school, and you want to buy your instrument, we will deduct one hundred percent of your rental payments from the purchase price. If you have checked the prices of new instruments, you may have been wondering how you might manage to buy one for yourself. Our rental program with the option to purchase has afforded many students a way to eventually own the instrument that they have come to treasure. If you wish to purchase an instrument other than the one you have been renting, talk to us. We will probably be able to arrange a nice deal for you.