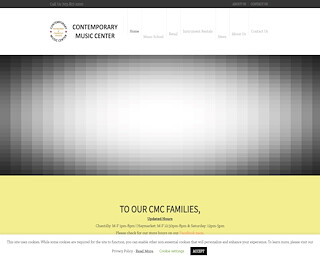 Would you like to give your child the gift of a musical education? Studies show time and again that music lessons increase a child's brain power. Many children are able to do much better on IQ and other cognitive tests after they have been taking music lessons for a while. Music adds a dimension of satisfaction and joy to any child's world. Unfortunately, most public schools have had to cut their music programs dramatically. It used to be that any child who wished to learn to play an instrument could get a free instrument from the school district and be provided with free lessons during the school week. Sadly, it's not this way, anymore. If your kid wants to learn to play, you are probably going to have to locate a private Virginia music school.
If you have been looking for a decent Virginia music school, your search is over. Welcome to the online home of Contemporary Music Center. We offer a great selection of musical instruments for sale and for rent. We also provide world class music lessons from professional musicians. We even offer twenty seven rehearsal rooms in which your child can practice six afternoons a week. We are a fine Virginia music school where your kids can learn to play from patient and entirely competent instructors. We also provide a lot more than just excellent lessons. If your child wants to learn to play an instrument that you do not have, we would be delighted to rent the instrument of their choice. The option to rent rather than purchasing outright is preferred by many of our music students. If it turns out that your child loves attending our Virginia music school, and they wish to own your instrument, we will deduct one hundred percent of your rental payments from the purchase price. Our rental program with the option to purchase has afforded many students a way to eventually own the instrument that they have come to treasure. We opened Virginia music schools for a good reason. We love to provide kids with quality instruments. The way we see things, the more people that can play an instrument, the better the whole world turns.
At Contemporary Music Schools in Virginia, we are well staffed with extremely talented and very patient teachers. Most of our instructors have had or are currently enjoying professional music careers. Some of the teachers at our music schools in Virginia have played prestigious concert halls and in well known jazz clubs. A few of our teachers have performed at the White House. Each of the instructors at our Virginia music schools is devoted to teaching children and adults how to properly play their instrument of choice. No, you don't need to have had music lessons as a kid. If you are dedicated, you can learn to play at any age.
Virginia Music School